PrestaFlow 1.4 | US-En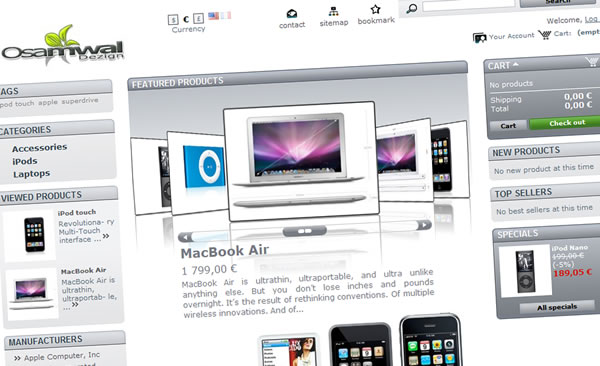 Boost your e-commerce with PrestaFlow: This Prestashop version of PictureFlow is a very simple to use drop-in module and comes already prepared to be installed on your site. PrestaFlow behaves just like any other PrestaShop drop-in module. You don't need a degree in computer science to use PrestaFlow. If you can upload files via FTP to your site and know how to use the PrestaShop back office, then you are all ready to go!
It runs like « Home Featured Products » module and can replace or supplement it. It is used to display on the front page of your site, the latest n products (configurable) of your category "Home". It was translated into French and English but you can easily translate into any language of your site.
Here are 2 E-Business sites where he already works: Test site with default Prestashop thème and a fresh new site delivered by Osamwal Dezign Corporate Inc (ie me): scarlett-bijoux.com. The site is running with a custom theme.
Download trial version: You can evaluate, test, torture module for a week (or more if needed, ask me at osamwal[at]yaelle.com) on your site before requesting an operating license. After that, no news from you, the server locks the trial application.
Download trial version:
License:
PRO : For a commercial project,( i.e. a PrestaShop website), the license is €55 (Duty Free) per site (Rebate if several). Once paid, I will issue within 24 hours (working days) an activated Pro version for your website (it is therefore important to set your domain name) and your invoice. Pending the delivery, you can continue to safely use the trial version. The license server can't lock anymore your trial version.
Install :
1- Upload the directory "Prestaflow" to the "module" folder of your PrestaShop website .
2- Add a new "product" image size in your Back Office (Back Office >> Preferences >> Image) and call it "flow". Set it to 240px*180px, then regenerate thumbnails.
3- Enable the module in the Back Office "Modules >> Tools".
4- Set up, if you want, the maximum number of products displayed in the menu "Setting" of the module.
That's it!
Configuration – Customize the theme:
By default, PrestaFlow uses the colors and attributes of the module "Home Featured Products" to fit the standard theme. But we can change everything and adapt to your theme.
2 Solutions :
You have some basic HTML and CSS development skills on PrestaShop and you make the changes yourself by editing the file "prestaflow.tpl" in your favorite HTML editor. In this case, you can help yourself with the PictureFlow code generator.
You hire me to do the job at lower cost. (on request, contact me at osamwal [at] yaelle.com).
---
A propos de cet article
Vous lisez actuellement "PrestaFlow 1.4 | US-En," un article sur Osamwal Dezign – PictureFlow workshop
Date :

10 septembre 2009
Catégorie :
Tags: